16th Annual Portage Crossing (Subject to Sanctioning Approval)
Venue: Okahu Bay, Tamaki Drive - Manukau Harbour, Mangere Bridge
Date: Fri 2nd Feb 2018
Distance: 18km - 5km - 5km

Venue: Orakei Marae…Okahu Bay-Mangere Bridge

Dates: Friday 2nd Feb 6.30pm 2018 powhiri Orakei Marae free accommodation dinner & breakfast paddlers/support crew.

Saturday 3rd Feb 7am Okahu Bay-Mangere Bridge

Distance: 18km paddle… 5km Walk… 5km paddle

All paddlers are invited to attend educational evening regarding histories of Tainui and Ngati Whatua tribes and the race briefing for the 16th Portage Crossing.

Free accommodation diner and breakfast for paddlers and support crews. This regatta is for experienced paddlers only due to tight time frames and distance to cover. Enjoy the journey of retracing the journey of Hoturoa and the Tainui waka as we revive this ancient Maori route.


A free whanau festival with free children rides and entertainment for all at Mangere Bridge with a Tainui powhiri for paddlers and support crews.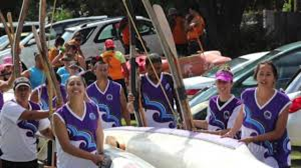 Contact Details
James Papali'i
Mobile 0210330884
Email: portagecrossing@gmail.com
Contact Details
Name: Portage Crossing
677 paddlers have looked at this page