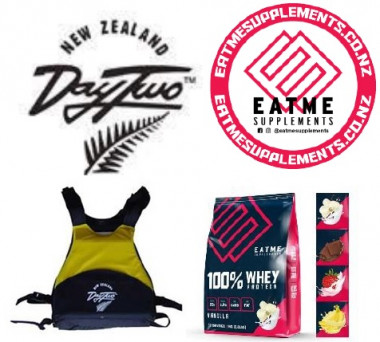 Two of our amazing Equipment Suppliers have donated prizes for this months draw, thank you to Eat Me Supplements and Day Two Ltd.
***1kg Premier 100% Whey Protein donated by Eat Me Supplements*** 
Designed specifically to support lean muscle growth and increased strength, our latest creation is a high protein, low calorie taste explosion. New Zealand's best tasting protein powder is guaranteed to make your day.
A reminder to use the discount code
waka ama
 which gives you as members 10% off at the checkout. On top of that we are giving 10% of the total spend back in the form of Reward Points - 
https://www.eatmesupplements.co.nz/about-us/reward-points.html
***A Kiwitea buoyancy vest donated by Day Two Ltd***
A versatile starter buoyancy vest with five way adjustments to fit children and adults.  Fantastic for waka ama, sit on tops, stand up paddling and general use.  This vest has a large front pocket big enough for your waterproof phone and muesli bars.  More than 55N of floatation (industry standard) made from very soft and comfortable foam.  Reflective tape on the rear.  Comes in red, orange or gold. Check out our other gear available including our new paddle jacket here -  
https://daytwo.co.nz/product/daytwo-coaster-paddle-jacket/


How do you go in the draw?
All you need to do is to be an affiliated member of a Waka Ama Club that is affiliated to Nga Kaihoe o Aotearoa (Waka Ama NZ) Inc.
How do you know if you are affiliated?
You can enter your ID card number into our new affiliation checker and it will tell you if you are currently affiliated http://wakaama.co.nz/affiliationchecker
If you are not affiliated or you do not know your ID card number, please check with your club, they will be able to tell you your ID card number or affiliate you.
So who can win prizes?
Anyone who has an ID card number that is a current affiliated member.
How do you find out more about affiliation?
You can click here to find out about affiliation and what it means http://www.wakaama.co.nz/pages/view/7
If you have any questions please email admin@wakaama.co.nz, we are only to happy to help.
236 paddlers have looked at this page
Updated: Mar 30, 2020