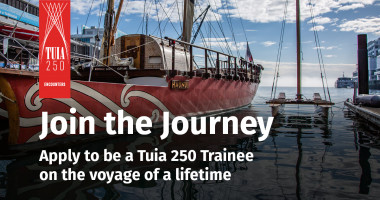 Manatū Taonga Ministry for Culture and Heritage is offering 450 free berths to lucky New Zealanders on board vessels as part of the Tuia 250 Flotilla! This is an extraordinary opportunity to experience open sea sailing on a waka hourua, va'a tipaerua (double-hulled canoes), heritage or youth ship for voyage legs ranging in length from overnight to two weeks.
The Tuia 250 Flotilla will sail around the country with six core vessels: waka hourua Haunui and Ngahiraka Mai Tawhiti, va'a tipaerua Fa'afaite from Tahiti, and the ships HMB Endeavour replica from Sydney, R Tucker Thompson, and the Spirit of New Zealand.

Free berths during September, October, November and December are available to adults and youth aged 16 and over, as well as Year 10 students nominated by their school. No sailing experience is necessary.
Applications have been extended to 23 JUNE, so apply now!
About Tuia 250: Tuia 250 is a national commemoration acknowledging the first onshore encounters between Māori and Pākehā in 1769. Tuia 250 also recognises the extraordinary voyaging traditions and cultures of Te Moana Nui a Kiwa (the Pacific) which existed before that time, as well as the feats of European explorers and the technology they developed.
Learn more at www.tuia250.nz
15,770 paddlers have looked at this page
Updated: Jun 18, 2019