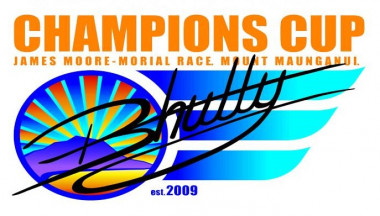 Thank you everyone that made the 7th James Moore-morial race such a huge success. Again it continues to grow with 117 participants taking on James's challenge trying to win the Champions Cup over the 32km distance.
Choosing the course was hard this year. A week out from race day it was looking perfect for a Maketu race start. But the wind changed every day and we managed to make a fun course with the little wind that we had whilst avoiding the busy shipping schedule.

The Waka Ama community stepped it up this year making up 87 out of the 117. There were a lot of new faces this year, as distance ocean paddling seems to be growing in popularity in New Zealand. We have always envisaged this as a race that paddlers of all ages and levels race in to test themselves and this year was testament to that.
We had our first internationals this year with Australian champions Coral Darbishire and Daniel Bova winning the trip to compete in Bhuttys from their National Championships in December. Also fellow Australian Graham Groneveld and from France, Manu Ado making the trip over to paddle with NZs best.
The wind was not the only deciding factor for our race course and start time this year. Due to the busy shipping schedule we had to start early to avoid any safety issues. First start had all Outrigger and SUPs on the line starting in Pilot bay heading out past Tangaroa towards Karewa island with the Surf skis starting exactly 15min after. From the start line it is 13km out to Karewa and the water was crystal clear surrounding the island making it quite spectacular for the competitors.  From there it was an almost straight line from Karewa to Rabbit island where the competitors had to circle it and then return back to Pilot Bay. Not only was this structured to ensure optimal safety for our paddlers but to also give them some variety in terms of scenery for what was to be a hard slog, while still having the famous 'last leg home' along main beach and round the mount into Pilot Bay to finish.
Thank you to our major sponsors Strongarm and JSwap who provided the winners of the Outrigger Divisions flights to Australia to compete at their National marathon championships in December later this year- a huge Congratulations to Marianna Hodges and Tupu King. They will be representing NZ and the James Moore-morial event later this year, good luck.
We are lucky to have a great safety team who return year after year to help us out. With roving jet skis adding to the team we managed to get a variety of media taken to best capture the race. Not only were our team focused on ensuring that everyone felt safe and supported out on the water, but also to act as the roving cheer team for all of those on the water. Despite a very windy start to the morning, it all but dropped off by race start which left the competitors facing a 32km flat water paddle. Many of our competitors took great advantage of the boat wake around them to try and break up what was a pretty flat run.
A big thank you goes out to all our sponsors. This race is well known for the amazing spot prizes we give out year after year and it is all down to the generosity of our sponsors. If you missed out on the prize you were eyeing up. Check out their website to purchase it.
Strongarm - www.powerinthewater.co.nz
Loaded - www.facebook.com/LoadedSport
JSWAP – www.jswap.co.nz
Eastcoast Paddler – www.ecpsurf.co.nz
Sommer Designs - www.rotoruapaddletours.com/paddles.html
Art in Surf - www.facebook.com/ArtinSurfNZ
Okere Falls Store – www.okerefallsstore.co.nz
Viper Vaa - www.paddlingaddiction.co.nz/collections/viper-va-a
RPM - www.rpm.co.nz
Sharkskin – www.sharkskin.com
Zenz - www.zenz.co.nz
Tai Paddles - www.taipaddles.co.nz
Surfersskin - www.surfersskin.co.nz
Macs Astrolabe - www.astrolabe.co.nz
Adore Flowers - www.adoreflowers.co.nz
Ocean Elements - www.facebook.com/pages/Ocean-Elements
Yoghurt & Co - https://www.facebook.com/Yoghurtandco
Turkish Delight 
 
Follow our Facebook page for more photos, videos and updates:

https://www.facebook.com/JamesMooreMorialRace
You can watch the race on this link: http://www.yacht-bot.com/races/6447
94,998 paddlers have looked at this page
Updated: Feb 10, 2015