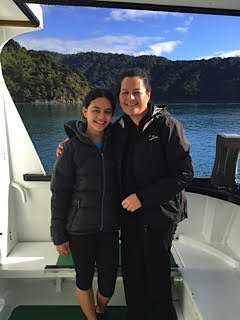 Kia ora 

On behalf of my daughter Kelly and myself I would like to sincerely thank Waka Ama NZ and sponsorship provided by The Outward Bound Foundation and the Joyce Fisher Trust for the opportunity to participate and complete the 8 day Leaps and Bounds Course at Anakiwa from the 20th - 27th June 2015.
Our course started in Picton where we were warmly welcomed by our instructors Glen and Mike.  We left the interislander terminal on a cutter, heading towards Torea Bay, where Glen taught us the art of sailing.  After a cold night out in the elements we set sail again for the Outward Bound School in Anakiwa.  It was great to have a warm shower and accommodation inside for the night.  
The 8 days were definitely action packed from the 6:20am PT sessions and 3.2km run when we were at Anakiwa to the freezing cold daily swims.  The activities were designed to challenge the mind and body.  This included rock climbing, hiking, raft building, high ropes and two nights out in the elements, one solo and the second night with our whanau. The final day was an 8km run, 1km for every day of our course.
It was great to complete the course with two other waka ama whanau which made the experience so much more valuable.  It is a fantastic experience that we would like to encourage fellow paddlers to pursue.  This particular course enabled us to do the activities together and challenge ourselves in different ways.  As we created new memories from our experiences we learn't a lot about ourselves and each other.
I must also commend the fantastic organisation from the Outward Bound team, we never had any down time and each activity flowed seamlessly into the other, even though as participants we didn't know what we were doing from one day to the next.
A huge thank you to our instructors Glen and Mike.  Your patience and expertise were greatly appreciated. A special thank you to our club Horouta Waka Hoe and Kathy Hayes and Mani Williams in particular for your support and advice.  Having completed the course we would absolutely recommend it to others so our sincere thanks again for such an awesome opportunity.
Nga mihi nui
Christine and Kelly
1,195 paddlers have looked at this page
Updated: Jul 28, 2015