My Outward Bound Experience
To R A McKenzie, Waka Ama NZ and Outward Bound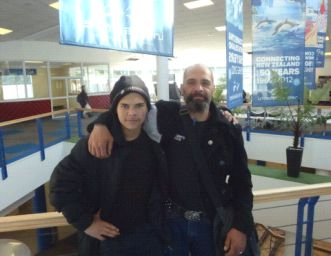 I would like to take this opportunity and thank our sponsors, Waka Ama NZ and R A McKenzie for allowing me the chance to participate on an Outward Bound Course, with my son Zion.
My experience there was awesome, even during the winter when we still had to jump into freezing cold water as part of our daily routine.
Being able to step out of my every day, working week and just to suck up the outdoor adventures and life skills we endured over our stay, is something of which I am very grateful for. The bond between my son and I, growing, very genuine and very real, makes me appreciate my life and my family so much more, and I am very thankful for returning home after a week with my son, knowing he is a strong and capable young man.
With having to apply for Outward Bound,  I learnt so much more about my health, having to complete a medical check and going to the doctors first time in 12 years and accidentally finding a medical condition that's been with me for years - probably would die younger if I'd never gone.  I'm glad it didn't stop us from being selected.
My highlights of Anakiwa include first and foremost,  spending quality time with my boy, all the activities, the people, the food,the good moral's and values of which will always have a special place in my heart.
A special thanks to our tutors Chris and Glen, you guys are awesome. The world needs more people like yourselves.
So to conclude my Outward Bound experience, great place with great people and great outcomes. Good people making the world a better place.  
Live, life, love...and laugh a lot more! Hahahahaha
Best wishes to the future
Riki Parata
McKenzie watch 594
1,331 paddlers have looked at this page
Updated: Jul 31, 2014