My Outward Bound Experience
Name:

 Martin Helleur


Age:

 51


Waka Ama Club:

 Ruamata

What course did you complete at Outward Bound? 
Leaps & Bounds 8 days
What did you find most challenging at Outward Bound?
Swimming in freezing water
What experience did you enjoy the most?
Getting to the hot showers
What would you say to someone who is thinking about doing a course?
Just Do It
What are some tips you would give to people who are going on a course?
Prep, Prep, Prep for the trip as per requirements
What are some values that Outward Bound School taught you?
Family Whanau
Focus on the goal
Would you recommend Outward Bound to other paddlers?
Definitely
Is there any one you would like to thank that supported you before or during your Outward Bound experience?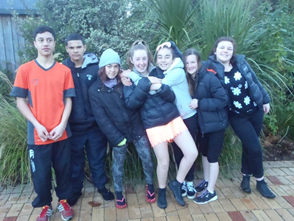 Thank you for the opportunity to participate with Hollee-Frances on Outward Bound (Leaps and Bounds) Hollee has gained more confidence and belief in her own abilities. She misses the camaraderie and bonding made with the other students over such a short but memorable 8 days.

For myself it was amazing how tough it was but yet so satisfying at the end of each day. The 2 days and nights Solo allows time for self-reflection and reconnection with one's values both personally at home and at work. With today's busy life style you forget what is important and what defines Rocks from Pebbles and Sand.
I have been part of a team environment before but it was with great surprise how in such a short time this team of 14 came together supported each other and achieved many challenges together.
I feel fortunate to have been selected for Outward Bound and I thank Waka Ama NZ, Outward Bound and Pub Charity for sponsorship for Hollee-Frances and myself.
Finally I must acknowledge our Outward Bound instructors Gliding Glen and Cricketing Chris our ever persistent and everlasting pain in the back side, for without their theory and practical input to each activity, I would not have leapt into that freezing Marlborough sounds water every day after a 3.2 km run.                   
You Bloody Legend. McKenzie Watch 594 
Photo Gallery (click to enlarge)
1,515 paddlers have looked at this page
Updated: Jul 31, 2014